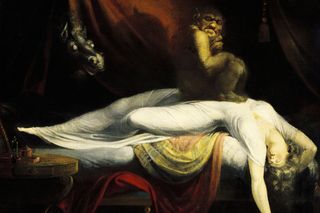 Dr Neil Dagnall said: "This study shows there is an association between belief in the paranormal, lack of control and anxiety. We have observed that magical thinking is likely to occur when individuals believe they lack control over external events.
"One reason for this could be that paranormal beliefs represent an attempt to establish control and reduce anxiety – in this context, mental toughness shows a person has control and reduces anxiety and should be associated with lower levels of paranormal belief." (https://www.mmu.ac.uk/hpsc/news-and-media/rke/story/?id=7559)
Anxiety has followed me for most of my life. As an adult, I have struggled with it mightily, trying everything from medication to therapy to alternative treatments in a futile attempt to banish it. My latest "tactic" is accepting it for what it is: a finely-tuned adaptive trait that sometimes creates psychic pain. My anxiety allows me to notice too much; that can include my own thoughts, which can quickly become distorted by fear. In the wild, I might have survived while the rest of my tribe perished. I don't eat food that is slightly off, and I spare myself the convulsive illnesses that others fall prey to; I notice a snake in a hole before anyone else has any clue that it's there; I know when someone is plotting something and might be a danger to me or someone close to me, and I protect myself. I can sense an angry dog before it appears around a corner; I know that a car is racing around a curve moments before it does. The list goes on and on.
In the realm of the paranormal, my acute sensitivities are both a blessing and a curse. The article quoted above is yet another abortive attempt to understand highly sensitive people with a marked tendency towards anxiety. This article and many others in the discipline of psychology attempt to understand me in ways that simply don't take into account the reality that I experience. The idea that "paranormal beliefs represent an attempt to establish control and reduce anxiety" is exactly misguided.
Paranormal investigations are anxiety producing. They teach you that you have no control over the spirit world, or however you might with to designate the unseen realms where consciousness continues to communicate with those who seek its manifestations. My motivations were not to reduce my anxiety or to gain control, but to understand anomalous experiences that I had experienced my entire life. Perhaps wanting to understand is an attempt to gain control, but in that case, every time we wish to know something can be pathologized as a desire to gain mastery over chaos. To be human is to want to know, to seek to solve mysteries, to figure out reality to the extent that we can.
The first time I captured an EVP on my recorder at an abandoned psychiatric hospital, the last thing I felt was control or mastery over fear. I felt overwhelmed by the bizarre voice that sang childish tunes in a place where no children had been present for decades. Very quickly, it became clear to me the limits of my understanding. Reality became more warped, more unfathomable, and far more complex and multilayered than anything I had previously surmised. In fact, if anxiety is produced by change, the intrusion of the unknown, and a loss of control over and comprehension of reality, then what I had stumbled into was the perfect recipe for anxiety. It was not unusual for me to have panic attacks when the atmosphere thickened, and I sensed a presence–or many of them–without any real idea what or who it was.
Fear turns you into a hyper-attuned radar for frequencies outside of your normal range; you feel energies and sense changes in the environment on an instinctual level. It's not a snake in a hole, but a sense that something or someone has entered your space. The animal brain kicks into high gear: What is it? Where is it? What does it want? And, most importantly, is it a threat to me or my tribe? Here's the problem: you simply cannot answer those questions; and because the answers are elusive, your heart rate rises, your breathing becomes shallow, you feel a flood of adrenaline, and you have to force yourself to stay in that area, to not run. There is no control here, no mastery of anything; you want to know what is in your space, but you cannot, because all you can do is catch a voice, see a shadow, get a fleeting glimpse of something out of the corner of your eye or feel the touch of something on your lower back, only to see later that you have received three, distinct scratches. You are attacked without being able to discern the predator. It can be terrifying beyond measure.
This brings me to the "mental toughness" addressed in this study. If the premise is faulty, then so is this conclusion: namely, that the more toughness you develop, the more you will feel in control, the less anxious you will be, and *voila*, you will cease engaging in "magical thinking" and the paranormal. In addition to insulting–equating belief in the paranormal with "magical thinking"–this statement seems like magical thinking to me. We are not in control. Even a minimal incursion into the worlds that open up when you explore consciousness will show you that control is an illusion. I would love to believe that I control my destiny, my reality, my surroundings, my circumstances, and those around me–but that is a far greater delusion than "belief" in the paranormal.
Those who seriously study the paranormal are not doing so due to "belief" in an ideology or philosophy that supports such things as the existence of non-material aspects of reality, but rather we study these phenomena because we have, generally speaking, experiences that are non ordinary in nature and cannot be explained by our dominant epistemology: materialism. If you grow up perceiving aspects of the world that others do not perceive, you want to know what you are experiencing. You want to know if there are others like you. You learn that science can't explain everything; you learn that psychology has its limits, its biases, and its ideologies that blind it to the breadth and depth of human experiences. Science turns people like me with extraordinary sensitivities into studies in self-delusion and pathology. That does a tremendous disservice to intricate mysteries of the unknown. It's gaslighting.
So. If I believed, however erroneously, that I am in control (of what?), I would stop all this anxiety-fueled investigation of the unknown. I would be a good materialist, a strong, mentally tough woman without all of the nonsense. Seems to me that our culture has such a good grasp of ultimate reality and everything that inhabits the multiverse that I do not need to explore anymore. I need to stop the search, or risk trivialization of my person. Sounds like ontological fascism, or an epistemology of the dominant culture.
If that is the trade off–feeling "out of control" and anxious when the world reveals itself as utterly strange sometimes–I will take it over a false sense of security and a belief that academia and materialism can save me from myself.
–Kirsten A. Thorne, PhD