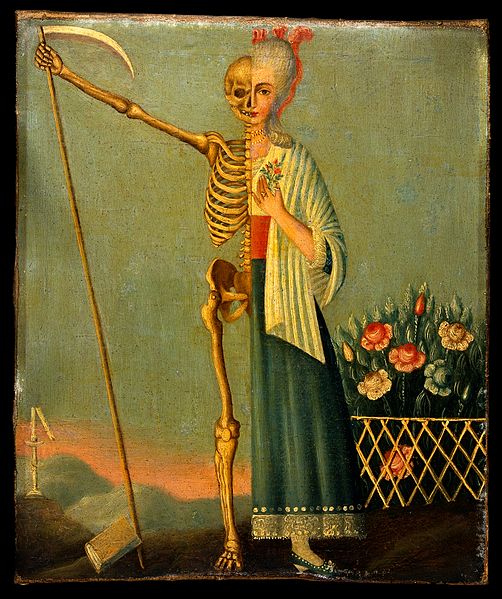 This year started with death: Kobe Bryant, his daughter, and seven other people crashed in the hills of the Santa Monica mountains in January of 2020, instantly losing their lives. Then, of course, Covid-19 came along and rapidly escalated the death count for this year, reaching numbers that left us numb; numbers climbing faster now than ever before. I don't want to list all the people who died this year; it would be impossible, with Covid deaths at nearly 2 million world-wide, and the list of Important People and Celebrities who passed is much longer than most years. And, of course, there was George Floyd; Breonna Taylor; and so many more that shone a light on the sheer brutality of racism in the U.S. Death was the most important character of the year, the player who brutally stole the show and revealed depressing truths about who is dispensable in this country: "essential workers", who some Americans call "illegals"; black men and women; poor people; the mentally ill; the homeless; and the marginalized of all stripes.
Lest you think that it was just this year that brought death, in 2018 nearly 7500 people died every day in the United States. One person dies in this country every 12 seconds. This year, that might be one person every 10 seconds; or 8; I don't know. Then this big, nasty fact hits us in the face: we are going to die, and we do not know when, and we do not know how. Obvious, right? Perhaps not so much for the United States, where we like to pretend that we will live forever as attractive, young, powerful individuals who will never experience any serious tragedy. Our cultural narrative around death indoctrinates us that death is a failure, a complete loss of humanity and individuality, and a blow to our collective need to be eternally productive and happy.
Not all deaths are equal. If you are famous, rich, and/or influential, your death is the ultimate catastrophe. If you are struggling to make ends meet, undocumented, or simply invisible to the dominant culture, your death is a blip on the screen. Nobody will notice, and nobody will care outside of your family circle. Death points out inequality like nothing else; in that sense, death paves the way for social transformation. Death serves its purpose in the culture: to shock us into action, to force us to see injustice and inequality where we could or did not before, and to motivate social behaviors designed to protect each other (masks, social distancing).
As odd as it may seem, on a "spiritual" level death and life are not opposites–one does not 'end' or negate the other. I learned this living in Granada. It was not just the weight of thousands of years of history and the influence of the Catholic religion, or the fact that you could walk into any church and see saint's bones carefully placed in a reliquary, but it was a pervasive feeling that death was woven into the everyday experiences of the people and the cultures that they inherited. Death is viewed by Christians and Muslims as a transformative force that leads to another life; there is no permanence in death, and no reason to cower or run in fear from something that is already a part of us. As Julian Scott points out in his review of Thebes,
"Life and death, like all opposites, are simply two sides of the same coin. As J.A. Livraga says in his book Thebes, in reality there is "only One Life, which glides along on its two feet, life and death." Sometimes life is manifest, visible. At other times it is unmanifest, invisible. A tangible image of this in Nature is the tree. During summer it is full of leaves, flowers and fruits; in winter, it is bare of all those attributes and appears to be dead; but we know from experience that it will come to life again in spring.
So with the human being: we are born, we grow and appear to die. But perhaps, following natural law, we do not really die. Perhaps our consciousness merely transfers to an inner plane, remains in that state for a 'winter' period and then returns to life in a new spring. This teaching of an abiding soul which incarnates and 'dis-incarnates' myriads of times in search of experience and perfection is virtually universal. It is not confined to Eastern philosophy, but was also held by Pythagoras, Plato, Plotinus and many others in the West." (https://library.acropolis.org/a-new-philosophy-of-life-and-death-2/)
I started this post with death as a wake-up call for societies in crisis, but I wish to conclude it with the thought that physical death leads to more life as a natural consequence of the belief–shared nearly universally–that the body is the vehicle of the soul, and as such, physical existence is not to be revered or held onto with terror and fear. As with everything in nature, life is a cycle that repeats, renews, and transforms–endlessly. As such, you will experience yourself as an eternal self in a myriad of ways. This is an affirmation that comes with scientific backing, but more than that, it comes with millennia of human experience and knowledge. Our Enlightenment heritage in the West is responsible for our cultural beliefs that the body is the sum of our existence, and we die completely in the absence of the material. However, this belief is unique in human history–in no other culture or time period did most people think this way. Materialism has not explained consciousness, so it cannot, therefore, render an opinion on our existence beyond the body.
More from Julian Scott:
"The foundation of this new philosophy would be that we give priority to spirit over matter and see the body as the vehicle of the soul. As a result, the purpose of life would not simply be to live as long as possible in the maximum state of comfort, but to make sure the soul has the experiences it needs in order to perfect itself.
There is a natural tendency in the mortal personality to avoid risk and stay within its comfort zone. The new philosophy of life would imply living life to the full – not in the sense of indulging all our desires, but in the sense of doing whatever it takes to express our soul-nature in this world, realizing our potential, contributing to society and living with joy. It implies a philosophy of risk, not foolhardiness, but going beyond our comfort zone in order to expand the limits of our being to the infinite.
A new philosophy of death would be based on a natural understanding of death as the portal to a different level of reality, which many ancient cultures called the 'world of the gods'. Not to be afraid of that invisible and – to all accounts – 'higher'  dimension, but also to accept it and look forward to it joyfully, in the same way that we look forward to tomorrow with optimism and serenity, even if we don't know exactly what tomorrow will bring. But we do know that it will bring opportunities and experiences."
Those who succumbed to Covid, to police brutality, or to tragic accidents, reveal something about ourselves, our culture, our beliefs and our priorities; we may not like what is exposed. But on an individual level, death did not end the glorious possibilities for Breonna, or George, or the many, many, people who gave up their lives to a virus. All of us soldier on and will wake from that slumber we call death prepared to face another day.
It is my understanding–and this is material for a different post–that the afterlife, reincarnation, and multiple dimensions of personal existence, happen at once. Awareness chooses an experience and sticks with it, but all other aspects of us are available to our understanding if we want to truly understand. Most of us don't want to know how the clock works, preferring to simply know what time it is. Come with me if you want to explore more deeply.
In love, friendship, and health,
Kirsten A. Thorne, PhD